Dubai AIM Summit and recent regulatory developments highlight Dubai's ongoing transformation into a favorable hub for crypto companies
Dubai has been taking the steps to position itself as a global hub for the quickly evolving and wildly diverse crypto industry. It is turning itself into a jurisdiction where a broad variety of crypto-related businesses can operate with the confidence of regulatory licensing.
We recently took a trip to the Dubai AIM Summit which further cemented our positive outlook on the prospects of Dubai as a growing hub for mining, Web3, and Metaverse-related businesses. Throughout the course of the Summit, we became aware that many significant players in the industry are transitioning their operations to the Dubai jurisdiction while Dubai is also making efforts to make their regulatory and economic ecosystem even more attractive to crypto players.
Herein, we highlight how Dubai is offering a regulatory framework for crypto businesses which allows them to operate not only there but across the entire United Arabs Emirates (UAE). We also cover some of the developments unveiled at the recent Dubai AIM Summit and how Dubai is expected to shape up as a crypto hub moving forward.
Dubai's foundations as a crypto hub
Dubai's evolution into a global crypto hub is not whimsical. As early as 2016, the government announced plans to leverage blockchain technology to create a fully digitized government. As part of that effort, Dubai established the Global Blockchain Council, a body of government agencies, banks, and tech firms which includes major names such as Microsoft and IBM. The goal of this council was to implement the nascent technology in the administration of various aspects of the city.
The Dubai government has since taken steps to transform the Dubai regulatory environment into an even more robust framework for digital asset businesses. In March of 2022, the government pushed through the Dubai Virtual Assets Regulation Law and established the Dubai Virtual Assets Regulatory Authority (VARA) to help provide oversight on digital asset regulations.
The Virtual Asset Regulation Law provides a framework for businesses dealing with virtual assets, including cryptocurrencies, NFTs, and other digital asset investment products. VARA will regulate the virtual asset market by providing clear policies, issuing licenses to crypto businesses, and penalizing defaulters. Earlier in November, the regulator noted that it would release a comprehensive regulatory framework allowing crypto companies to launch products before the end of the year.
Several industry experts believe that the crypto-friendly approach adopted by the Dubai government is putting the Emirate at the forefront of crypto adoption. The Global Head of Banking for Citi Global Insights Dubai, Ronit Ghose, pointed out that Dubai is poised to emerge as the crypto hub the world has been waiting for.
Influx of major crypto players into Dubai
The positive impact of the Dubai governing authorities putting in place such regulations is already evident. We have already observed several major players in the crypto industry transition or begin transitioning their operational headquarters to Dubai.
In March 2022, crypto exchange ByBit revealed that it would shift headquarters from Singapore to Dubai. At the same time, Singapore-based Crypto.com also announced plans to establish a regional hub in Dubai amid a tightening regulatory grip from the Singaporean government. WazirX, one of the biggest cryptocurrency exchange platforms in India, also moved to Dubai to enjoy the conducive regulatory environment. The world's largest crypto exchange, Binance, received a virtual assets license from VARA earlier in March to offer limited crypto products in Dubai. The exchange has recently secured a license to offer more crypto products.
Additionally, the new framework has taken Dubai's digital asset industry from a gray market into a more transparent and attractive jurisdiction for a wide variety of crypto companies, including miners. With these favorable measures in place, thousands of crypto miners are moving to Dubai to set up shop. The ongoing expansion plan of Crusoe Energy into the Middle East, specifically Abu Dhabi and Oman, presents the opportunity for cheap energy and could significantly boost the crypto mining market in the UAE.
Crusoe Energy's CEO, Chase Lochmiller, explained at the AIM Summit that the company uses its patented digital flare mitigation systems to power mining rigs. Flaring involves burning excess natural gas as part of oil drilling operations and has a massive negative environmental impact. Thus, using flared gas to mine digital assets provides an opportunity for cheap energy and enables the crypto mining industry to assist in reducing carbon emissions. This initiative presents crypto mining, often criticized for damaging the environment, as a force for energy development by tackling gas flares burned by the Gulf Cooperation Council (GCC) region, which currently stands at 400 Gwh a day.
The policies implemented by the Dubai government have demonstrated their commitment to embracing the future and their long-term plans of transforming Dubai into a global crypto hub. These steps are critical to establishing a functioning capital, technology, and talent ecosystem. H.E Halal Saeed Al Marri also pointed out that Dubai's immense success is primarily due to its "ability to attract talent."
Consequently, with major crypto exchanges setting up shop in Dubai, the crypto adoption rates in the country have soared. According to a recent report from Chainalysis, cryptocurrency transaction volumes in the UAE had increased by 37.2% year-on-year (YoY) from June 2021 to June 2022. This increase indicates the country's interest in cryptocurrencies and the population's desire to explore the potential of digital assets.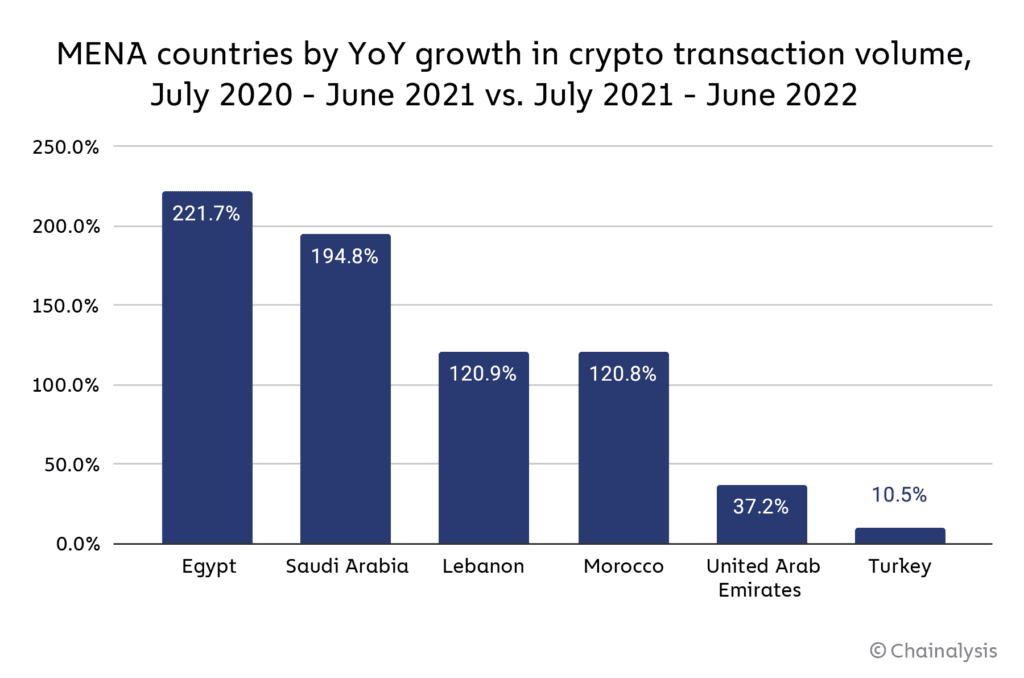 (Source: Chainalysis)
Dubai continues to further strengthen jurisdiction as a favorable crypto hub
Dubai continues to work towards strengthening its position as a favorable regulatory environment for crypto entities. The government is also anticipating emerging trends and putting in place measures to attract talent in these trends while they are still in their growth phase.
For instance, in July 2022, the Crown Prince of Dubai unveiled the Dubai Metaverse Strategy which aims to turn Dubai into one of the world's top 10 Metaverse economies. The initiative will build on Dubai's achievement of attracting over 1,000 companies in the blockchain and Metaverse sectors to promote the Emirate's ambitious plan to support more than 40,000 virtual jobs in the next eight years.
The Metaverse strategy is expected to accelerate the development of Web3 technology and leverage its power to improve various sectors of the Emirate's economy. With the Metaverse's market size estimated to be between $8 to $13 trillion in the next eight years, Dubai intends to double the number of Metaverse companies to capture a substantial market share. The government of Dubai aims to transform the Emirate into the internet's next center of evolution.
Dubai's commitment to continue improving as a hub for crypto-related companies
The recent influx of major crypto companies into Dubai combined with the government's commitment to continue strengthening its regulatory framework for digital asset companies leaves us with an extremely positive outlook on Dubai's future role as a hub for crypto companies. It is evident from the influx of major players in the industry that Dubai's regulatory framework is addressing key pain points for players in the market and the growth in blockchain-based activity in the region suggests that its future is bright as a crypto hub.