As either an existing or prospective Bitcoin miner, getting started with ASIC Jungle is an important step for keeping apace with this ever evolving (and still young) industry. Bitcoin mining has been a notoriously enigmatic industry since the early days of mining on everyday CPUs. The industry has remained relatively unclear to the general public while it has evolved to encompass Application Specific Integrated Circuit (ASIC) mining hardware ubiquitous in the industry today.
Even as Bitcoin has become more well-known, the earlier dominance and massive resources of Chinese mining farms and ASIC manufacturers created significant trenches for competitors seeking to enter the market. The market has since evolved to benefit new miners globally, but barriers still exist that complicates both individual and commercial buyers from seizing their mining operations underway.
ASIC Jungle is thriving by expanding the mining industry and making the sales of Bitcoin mining hardware as seamless as possible. Even during the current economic downturn, ASIC Jungle takes pride in the ability to guide our clients based on their specific needs, small or large, toward getting started on reaching their own mining goals.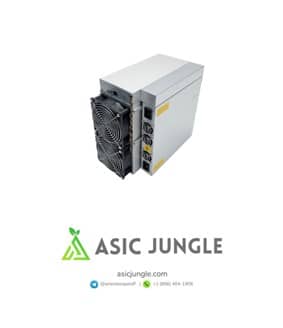 In this article, we will explore the current state of Bitcoin mining and take an inside look at the ASIC Jungle success story. For any individual or organization with experience in the market, it is easy to recognize the opportunity presented by the transparency, security, and service provided by the ASIC Jungle team in this historically convoluted and fast growing industry.
Bitcoin mining today
Bitcoin mining looks much different than it used to. While Chinese ASIC manufacturers still produce the lion's share of hardware in the market, the pendulum has swung in favour of the West for ownership dominance over the majority of ASIC machines actively mining Bitcoin (hash rate dominance). This has been a boon for Bitcoin - not to mention for miners in the West capitalizing on the mass exodus of ASICs from China in 2021.
Miners in the West have continued to benefit thanks to initiatives from organizations like ASIC Jungle, but there is much work left to do. Big players, like Intel, have announced their intentions to innovate on the ASIC technology typically dominated by the likes of Chinese giants like Bitmain and Antminer.
ESG and the future of Bitcoin mining
Despite the critics, the future of this growing industry looks very bright. Increasing regulatory transparency and the application of Bitcoin ASIC miners to accelerate the adoption of renewable energy sources indicate a runway that aligns well with the influential dictates of Environment, Social, Governance (ESG) policies shaping the future of our global economy.
ASIC Jungle is motivated by both the challenges and opportunities facing existing and prospective miners. Since being founded in 2020, along with the added years of experience of our founders, we leverage a rich network of individuals and organizations familiar with the history and community of Bitcoin mining that can bridge the gap for those seeking to enter the market today.
Who is ASIC Jungle?
We are one of the top brokerage firms of Bitcoin ASIC mining hardware, providing an unmatched level of customer service. Either by way of our dedicated concierge-like service desk or our marketplace, the ASIC Jungle team places utmost priority on devoting the highest level of attention on our relationships.
Brokering
Brokering the sale of ASIC hardware is where the rubber meets the road for ASIC Jungle, selling over 100,000 units on a yearly basis since being founded in 2020. No matter the size of the order, we offer the most competitive prices for your future ASICs via our catered OTC service.
Marketplace
Having a Bitcoin mining operation typically doesn't mean buying machines and mining Bitcoin forevermore. Though this could be the case, market factors often indicate that having room to buy and sell your machines on an ongoing basis can be advantageous for your business. Our active marketplace empowers miners to take control of their operations from start to finish.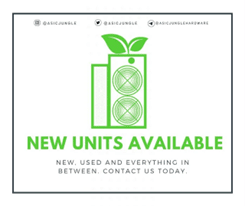 Repair center
ASIC Jungle's repair service marks a considerable relief for anyone familiar with trying to exercise warranties from historical miner manufacturers. With our own experienced Bitmain certified repair technicians, we offer top-tier service for the ongoing maintenance of your machines. For more information, reach us contact@asicjungle.com.
ASIC Jungle's vision
As noted previously, ASIC Jungle's success has stemmed from a priority to expand the mining market and make hardware sales as seamless as possible. This is the vision behind ASIC Jungle. We also maintain a view to remain volume agnostic, providing clients with professional service no matter the size of their order.
Our culture
Our culture is built around striving to be the best by following through on our core values and vision. This reflects on the quality of service our clients receive and the prices they pay.
Our commitment
ASIC Jungle operates on a commitment to transparency. We are open about our shipping costs, and don't up-charge our buyers. Communication and professionalism are the standards we double-down on.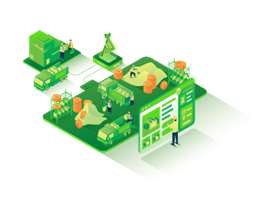 Our presence
We love meeting the Bitcoin mining community at conferences and events across the globe. You may have seen us at the following events: Mining Disrupt 2020-2022, Bitcoin 2021, Blockchain Summit, The Mining Conference, World Digital Mining Summit, and many more.
"One of the most recognizable companies for all things Bitcoin mining" - ASIC Jungle
The ASIC Jungle team
While the industry for Bitcoin ASIC miners has often been characterized by opaque, nearing on "grey" markets, the ASIC Jungle team introduces a shot of colour, security, and transparency.
Our team has over 5 years of experience working in the ASIC mining sector as hardware and mining facility brokers and has worked closely with data center operators, large-scale miners, manufacturers, and technicians.
"We are industry professionals with years of experience in such a new industry" -ASIC Jungle
Trusted and transparent
Our reputation amongst the community is untarnished, priding ourselves on our professional service. While buying or selling ASIC mining rigs, we are transparent throughout the process and always offer competitive prices.
Confidence and Reliance
Our clients are relieved from the uncertainties that have previously been accepted as commonplace in the procurement of Bitcoin ASIC mining rigs. The ASIC Jungle team is committed to setting a new standard of professionalism as we inspire confidence and expansion in this remarkable emerging market.
Getting started with ASIC Jungle
Reach out!
The easiest and most important step in getting started with ASIC Jungle is to get in touch with one of our team members. Upon listening to your demand, our team will leverage our expertise and position in the crypto space to cater priority service to your particular needs. The future of your Bitcoin mining operations is only one conversation away.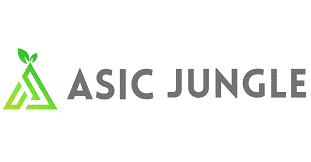 A word from our founders
"We, like all of you, have fallen in love with what this industry promises and represents. We believe that somewhere along the way, miners have been overlooked from a servicing perspective - when, in reality, they are the most essential part of the ecosystem.

Our mission is to empower you, as miners, with the tools and transparency essential to successfully and efficiently run your business without any unnecessary expenses. We are excited to bring this product to market and extend it's full value to you."

Sincerely, The ASIC Jungle Team