Bitcoin has come a long way in terms of adoption and usage since the submission of the bitcoin whitepaper, which celebrates its 14th anniversary this week. Long gone are the days when bitcoin was worth only cents, was mined on laptop CPUs, and when nobody had heard of a cryptocurrency before.
In 14 years, bitcoin has passed many milestones to make the community proud. From the constant improvement of mining infrastructure and the addition of the lightning network to nationwide adoption, bitcoin has garnered the attention of countries, institutions, successful CEOs, and an international audience.
To celebrate the 14th anniversary of the bitcoin whitepaper, let's look back on the progress of bitcoin to date and see how far worldwide adoption has come. Let's dig in so we can understand the magnitude of the technological evolution ushered in by the world's dominant cryptocurrency.
Bitcoin's infrastructural evolution
Bitcoin's Proof-of-Work (PoW) mechanism has welcomed open-source innovation and a strong community of miners and developers into its system. Undeniably, the borderless opportunities bitcoin offers have been leveraged by plenty of individuals, groups, and countries, creating an open economy for the world.
The lightning network
To offer scalability to the bitcoin blockchain, the lightning network was launched in 2017, providing much-needed innovation to accelerate the ecosystem. In fact, a 2022 Messari report on Bitcoin states:
"The bitcoin capacity held in public channels on the LN reached a new high of 4,618 bitcoin valued at $93 million. The combination of the increase in adoption and integrations led to capacity drastically increasing by 96% in the past year. Some of the companies that adopted Lightning in 2022 are Cash App, Kraken, BitPay, and Robinhood."
As the lightning network helps bitcoin become a better tool for Peer-to-Peer (P2P) payments, the opportunities for innovation in the ecosystem are accelerating. Mining, for instance, is yet another area seeing rapid innovation within bitcoin's infrastructure.
Bitcoin's mining industry
From CPUs to ASICs, the history and evolution of the mining industry has been quite a story. The mining technologies powering the bitcoin network is one-of-a-kind and has been a fascinating succession of events. To fully grasp the potential of bitcoin mining, consider the fact that institutional players are pitching in to provide their own mining hardware. One such player is Intel, which released its Blockscale mining chip earlier this year.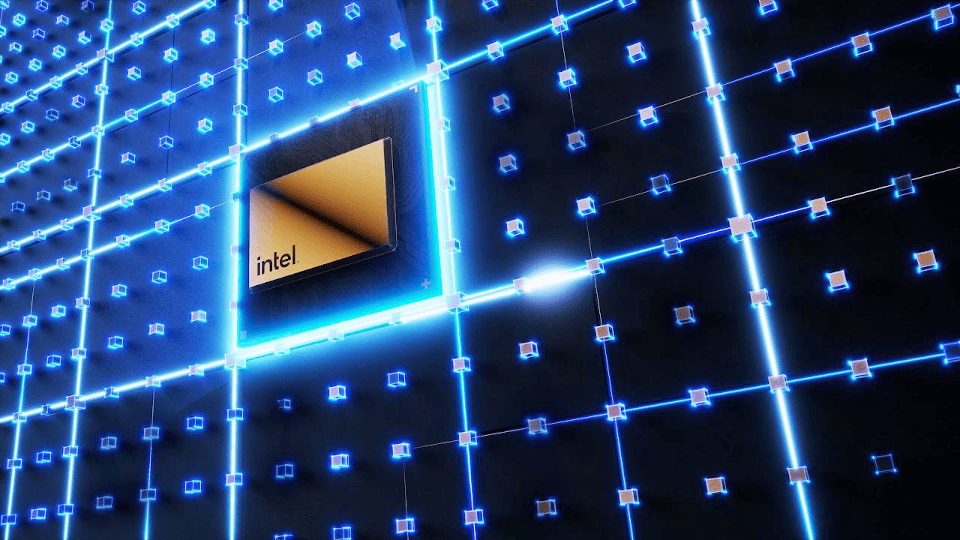 Mining, alongside the lightning network, has seen tremendous growth. Furthermore, the mining infrastructure supporting bitcoin has allowed many use cases for bitcoin's wider adoption, including offsetting renewable energy costs and humanitarian efforts.
Bitcoin for humanity
Bitcoin allows for P2P transactions, eliminating the need for middlemen to execute and cut value from those transactions. The disintermediation of financial transactions enables opportunities to provide humanitarian aid in that people can donate with certainty that their funds will reach projects they support without paying fees that would typically go to intermediary banks or financial payment systems.
An example of bitcoin as a vehicle for humantarian donations is in the Ukraine/Russia conflict. Ukraine was able to raise $54 million through bitcoin and crypto to support the war against Russia, which may not have been possible without the help of the blockchain.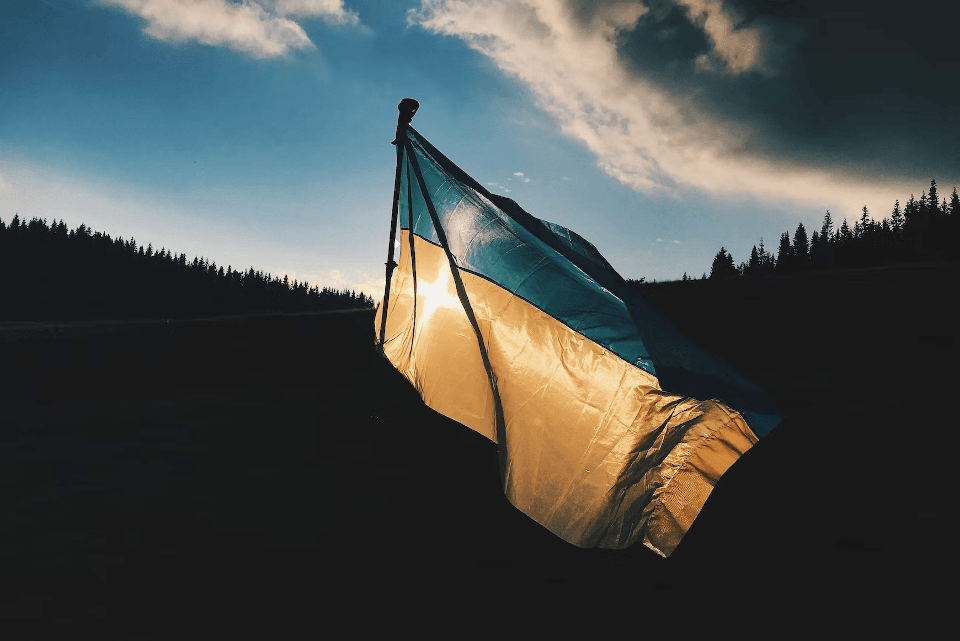 South Africa
Additionally, bitcoin spreads wealth as part of an open economy. While not directly humanitarian, bitcoin is able to give financial opportunities to low and middle income countries (LMICs). For instance, bitcoin as a payment infrastructure has benefited South Africa through grassroots projects like Bitcoin Ekasi, and the recent adoption of the lightning network by Pick 'N Pay, one of South Africa's largest retailers.
Virunga
Moreover, bitcoin mining provides economic opportunities open for anyone with the right resources. For example, the Virunga mining facility in the D.R.C uses bitcoin mining to improve the profitability of their facilities. The borderless opportunities bitcoin provides allow LMICs to tap into new revenue sources, creating a more economically fair world.
Bitcoin adoption worldwide
14 years after the whitepaper's submission, bitcoin's adoption has seen a steep adoption curve. Revisiting some global adoption numbers can provide a clear perspective on the current stage of bitcoin's impact on the world.
Positioned as the biggest cryptocurrency in terms of market cap, bitcoin is also the most widely adopted cryptocurrency, with over 100M people owning bitcoin in the world. In fact, a Bitcoin report made by the Block shows how bitcoin has twice as much awareness as ethereum, with over 88% of respondents claiming to have heard of bitcoin in their life.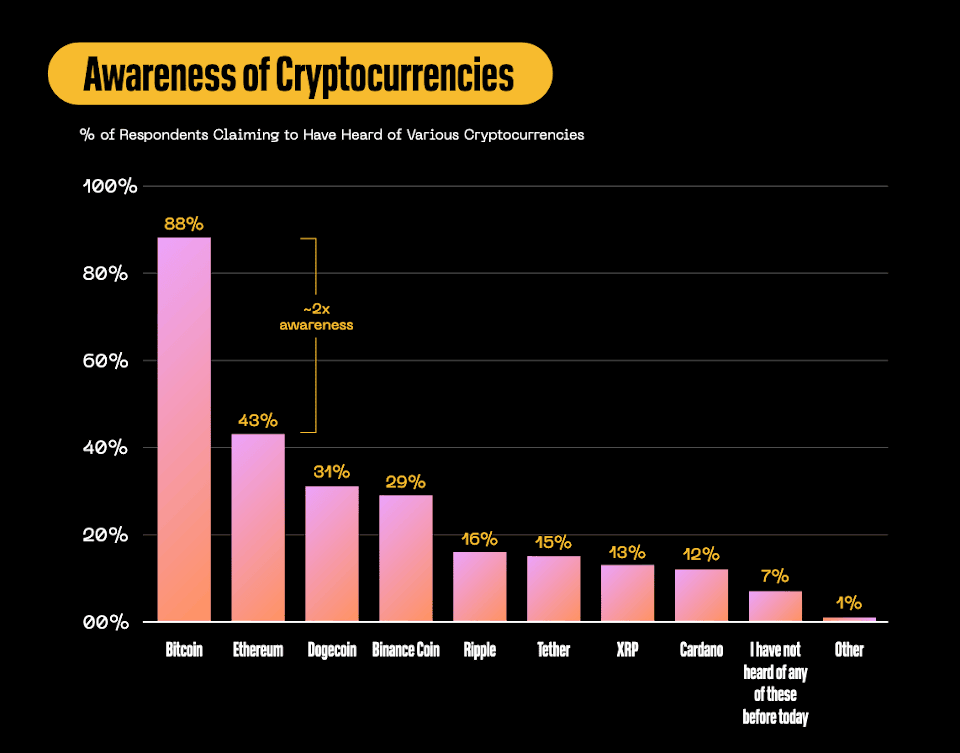 In the last 2 years, two countries have adopted bitcoin as legal tender; El Salvador and the Central African Republic. This type of nationwide adoption has no comparison. We will hopefully see more national and institutional adoption as bitcoin becomes more well-known and regulated.
Influential endorsements of bitcoin
Finally, bitcoin wouldn't be where it is today without influential endorsements. Many CEOs have been proactive in pushing forward the digital currency narrative, some going as far as putting digital assets on the balance sheet of their companies.
Elon Musk
One impactful bitcoin promoter has been Elon Musk, who purchased $1.5 billion in Bitcoin during 2021. Tesla openly displays digital assets on their balance sheet, which can be seen below.

Elon Musk has been a spokesperson for Dogecoin as well and has continued to spur growth in cryptocurrency adoption through his recent acquisition of Twitter. Speculations have since developed concerning a digital payments-oriented pivot to the platform, further driving the narrative for bitcoin adoption.
Jack Dorsey
Among other leaders, Jack Dorsey has also been publicly endorsing bitcoin, changing the name of his company, Square, to "Block", indicating a more blockchain-driven narrative. Dorsey has also been the source of some discussions revolving around a "Web5" technology built on top of bitcoin and the lightning network, leaving room for debate and conversations.
Bitcoin's 14th anniversary recap
It is an understatement to say that Bitcoin has grown tremendously over the years. The infrastructure surrounding the bitcoin network has already given birth to multiple industries. Hence, bitcoin's use cases have also seen a major surge as it is used to create an open, borderless economy that bolsters renewable energy adoption, and even supports sound charitable donation practices.
Influential national, institutional, and celebrity endorsements mark yet another benchmark of bitcoin's adoption given the likes of El Salvador, Intel, Elon Musk, and Jack Dorsey publicly and openly backing the digital asset while innovating in the ecosystem.
The promises of bitcoin have only scratched the surface; stay on top of mining and the bitcoin story with us here at Asic Jungle.